Wendel Clark Celebrity Classic
17 JUN 2019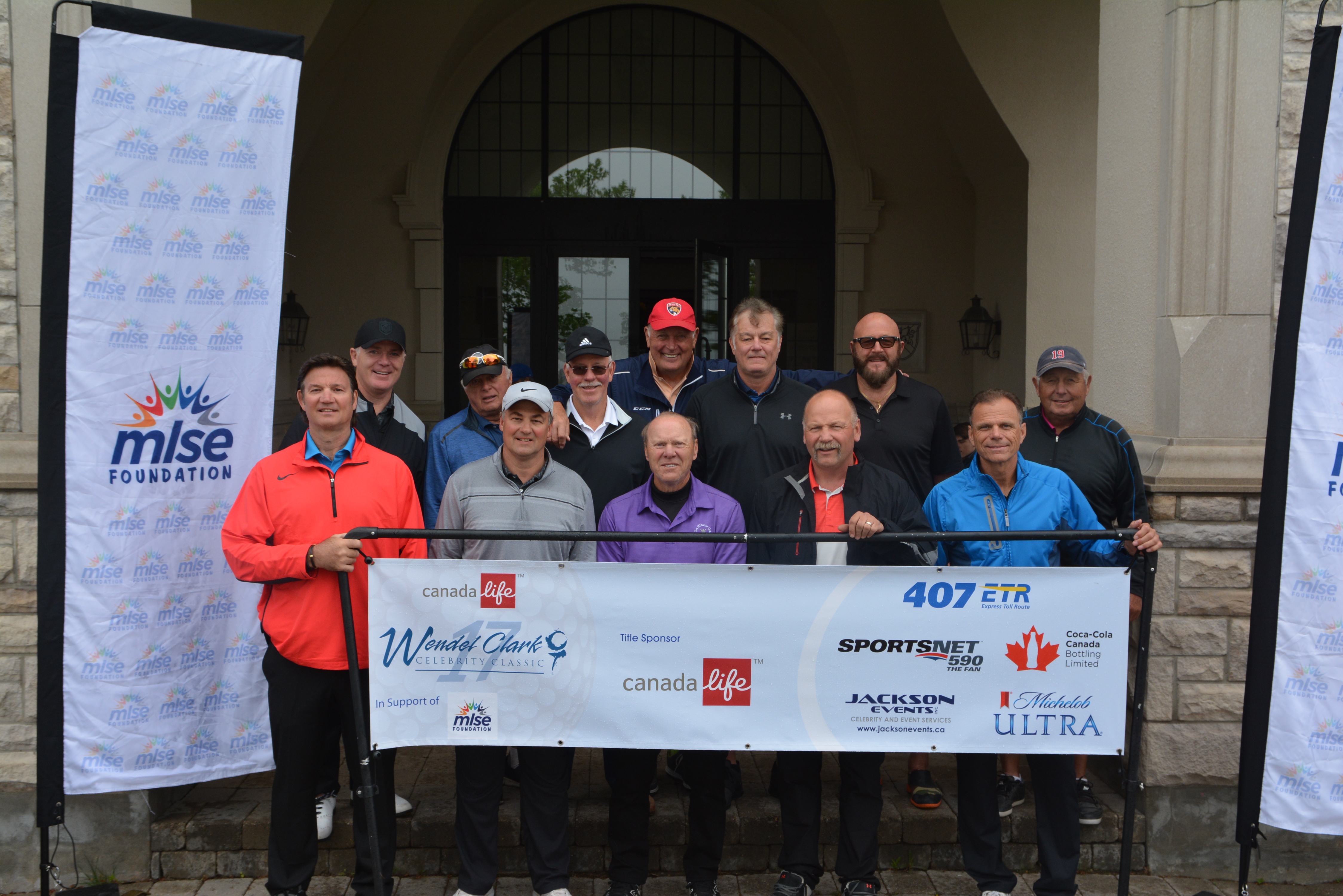 By BRENT LONG
Everyone got stoned at the 19th Annual Canada Life Wendel Clark Celebrity Classic in support of the MLSE Foundation on June 10 at Glencairn Golf Club.
Not that there is anything wrong with that these days, but it was the high-flying Stone family that smoked the entire field at the annual party featuring Wendel and a dozen or so NHL legends.
As an Irish mist settled into the escarpment, perhaps left behind by Rory McIlroy who won the RBC Canadian Open a day earlier, the haze was so thick at times that golf balls vanished moments after takeoff and many weren't found in the lush grass and thick fescue that surrounds the weedless fairways.
While a few of the old timers enjoyed puffing on a cigar throughout the round at Glencairn Golf Club in Milton, Mike Stone, Dan Stone, Bill Stone and Steve Stone were high on life and a little lucky if the truth be told.
"I have been playing in this event for close to 20 years, so to finally get the win is awesome," says Mike Stone, who played with his father, Bill; his brother, Dan and uncle, Steve. "It's something we have talked about for a long time. We made it to the shootout before, but never won it. A little disappointing that we didn't have the shootout today, because I really like it, but we'll take the W." First place amounted to $500 in ClubLink cash, a priceless team photo with Wendel, memories that will last a lifetime and a return trip for the 20th anniversary of the event in 2020.
Traditionally, the top-six teams advance to a 100-yard shootout on No. 9 Scotch Block to determine the day's champion. But when the skies opened with buckets full of rain just as play ended, organizers opted for a reverse draw among the top-six to determine the winner.
"We had a great time out there. It's always fun to spend some time with Wendel and play a few holes with a few of the NHLers. I'm a big fan of Wendel's. For us, it's now a family tradition and that makes it an extra special day," Mike said, noting that his brother Dan was playing in the celebrity classic for the first time. "We'll be back next year to create some more family memories."
Second place went to the team from Glencairn GC of Frank Wetselaar, Ed Forte, Al Digout and Graham McCulloch with the low round of the day at 14-under par followed by Evan Ashton, Trevor Lance, Chris McKitterick and Don Gee at 13-under.
"It was a fun day and we had a great run going for a 58. Peter Mahovlich and Butch Goring helped us out and overall it was a terrific experience," Wetselaar added.
"At this time of year everyone loves chatting about hockey, who is going to win the Stanley Cup, what's happening with the Toronto Maple Leafs for next season and this year there was a lot of chatter about the Raptors," Wendel Clark said as the Boston Bruins and St. Louis Blues prepared for Game 7 of the Stanley Cup Finals. "Nineteen years and we're going strong. It's hard to believe. I would just like to thank everyone for coming out today and supporting the MLSE Foundation and all the good work it does for youngsters in our community."
Hockey legends who teed it up with the 140 guests included; Dale Hawerchuk, Al Iafrate, Dave Ellett, Brad May, Tom Fergus, Gerry Cheevers, Peter Mahovlich, Butch Goring, Bill Smith, Brad Park, Mike Krushelnyski and Mike Gartner.
"I have played in this event for about 10 years and it's always a great day," says Peter Mahovlich, a former member of the Montreal Canadiens with four Stanley Cup rings, who heads up pro scouting for the Florida Panthers. "There's nothing like a game seven and everyone has an opinion on who is going to win. I have friends on both sides of the teams, so we'll just have to wait and see," added Mahovlich, who shared stories with participants about winning Game 7 in Boston, Game 6 in Minnesota and Game 7 in Chicago on the way to winning the Stanley Cup in 1971! The Blues went on to win the cup a couple of days later.
Sanjeev Khosla, Vice-President, National Account partnerships at Canada Life, was once again wowed by the experience. "All our clients and advisors love talking to Wendel and the other players. He's so good natured and a true professional, that's going to rub off on you."