Magnificent Muskoka
10 AUG 2020
By Brent Long
Summertime fun is expected to give way to fabulous fall days as city folk enjoy the great escape to Muskoka. Lasting memories of cottage life are just moments away at both ClubLink's Sherwood Inn and Rocky Crest Golf Resort. So why not consider a few days at both for the perfect getaway.
After an enjoyable, fun-filled day of great outdoor activities there is something so peaceful that comes with nightfall along the rippling shores of quintessential Lake Joseph. Whether it's watching the sparkling stars in the dark night sky from a creaking wooden dock, sitting by a crackling campfire with a marshmallow, or curling up with your favourite novel in a super comfy reading chair for some me time, Muskoka is simply unforgettable in so many ways.
Great golf also abounds at The Lake Joseph Club, Rocky Crest and Grandview – ClubLink's original three that put Muskoka on the map as one of Canada's premier golf destinations. The courses are picture-perfect from every tee or looking back from every green. The exposed giant rugged rock formations of the southern tip of the Canadian Shield make for a breath-taking landscape and the surrounding thick forest is a welcoming natural retreat. There is an abundance of wild berries, wildlife and wild times to be enjoyed by all!
"We have enjoyed a super busy July and August at our resorts and our world-class golf courses," says Jerry Feltis, Regional Director of Operations Simcoe/Muskoka at ClubLink. "COVID-19 certainly impacted the start of our season in May and June, but as the provincial government's restrictions have eased, we have managed to create a safe and welcoming environment that has allowed our guests to feel right at home, while observing the physical distancing guidelines."
Reservations at the timeless Sherwood Inn and sporty Rocky Crest Golf Resort have been busier for July and August than they were last year, but there are openings as we head into the popular fall season and the changing of the colours.
"People are looking to escape the Greater Toronto Area for a break from city life and months under quarantine. Everyone has been cooped up in their homes since March, so when you come up here, it really is a breath of fresh air," says Feltis, who has been with ClubLink since 2008. "People visit us, and they have 700 acres of wilderness to spread out and enjoy. You can come up here and go for a hike for a couple of hours and you might see a beaver, some deer, or a heron. It is a great spot to touch base with Mother Nature, relax for a few days and feel normal again."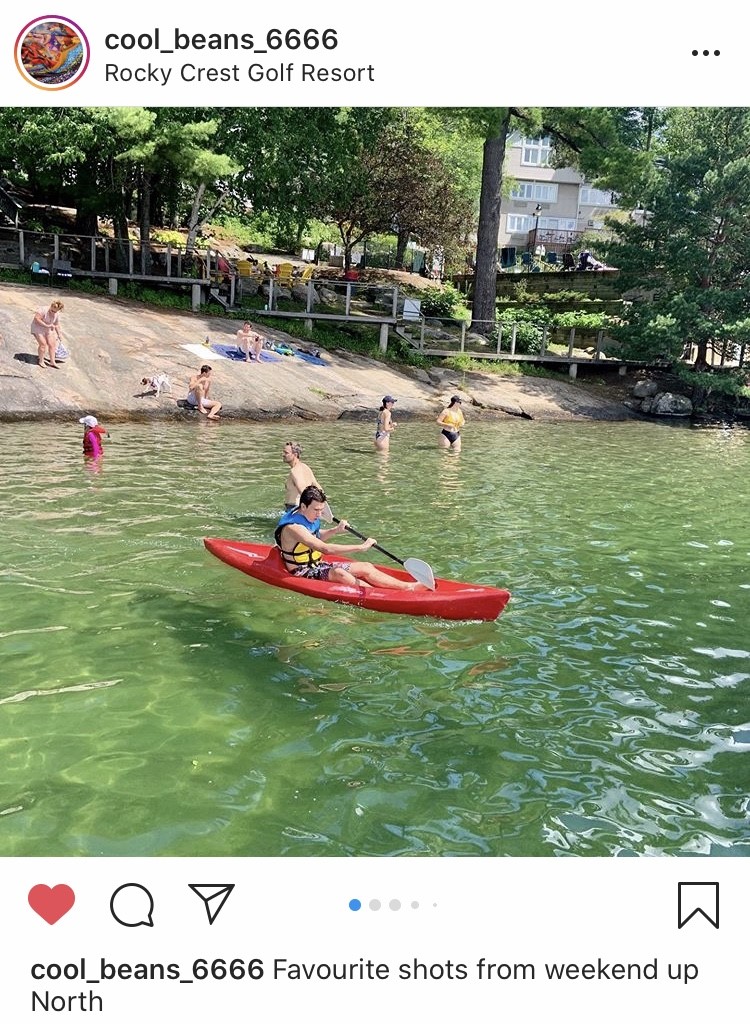 Feltis is quick to point out that member, guest and staff safety comes first. This philosophy has allowed ClubLink's facilities in Muskoka to flourish. Extra time is spent sanitizing all key touch points, from guest rooms to golf carts and everything in between.
"We have an excellent team this year and they're doing everything they can to ensure a memorable experience for our guests under extraordinary circumstances," Feltis adds. "Whether it is the course and grounds team preparing the courses for play each day, the cleaning staff safely sanitizing rooms, the food and beverage servers greeting guests with a smile or golf operations welcoming guests to the first tee, we're all dedicated to providing first class-service that goes beyond the everyday."
While creating a tasty take-out menu was crucial in the early stages of re-opening at both resorts, fine dining that Sherwood Inn is well-known for is back on the outdoor patio, while indoors it is more intimate than ever as a result of the spacing requirements. Sherwood Inn is best known as Muskoka's preeminent traditional lakeside inn. With distinctive rooms and separate cottages there is lots of room for everyone - family groups, golfing buddies or intimate getaway with your loved one.
Rocky Crest Resort welcomes you with exceptional service and a variety of terrific lodging options including luxury suites, villas, cabins, and cottages. The two outdoor pools, lakeside activities, tennis courts are back in operation at Rocky Crest Resort. The outdoor patios at clubhouse and adjacent to Windows restaurant provide a wonderful setting for a traditional Muskoka fare and featured items.
"People are not taking traditional summer vacations outside of the province this year, so for many, Muskoka is the next best thing," adds Feltis, who is also President of Resorts Ontario. "Throughout Muskoka, we have been seeing a significant increase in demand for accommodations from Port Carling to Gravenhurst and everywhere in between. Here at Rocky Crest (and Sherwood Inn), we are seeing so many first-time leisure resort guests that it is energizing. I see our guests smiling, laughing, and enjoying a wonderful getaway, and I know it will not be there last time visiting us. We have opened the doors to a whole new generation of leisure travellers, who will continue to explore and enjoy (ClubLink's properties in) Muskoka for years to come."